Curtain Walls
The system Poliedra-Sky 50 is part of an evolution process for the building industry.

Along with other versions, Poliedra Sky 50 I and Poliedra Sky 50 S, it allows builders to design and fabricate curtain walls or Aluminium frameworks (combined with glass, stone or composite materials) of different shapes and dimensions, offering a wide range of functional and aesthetical solutions.

The system rightly owes its name to the "polyhedral nature" due to its constructive and application possibilities. Thanks to its aesthetics, tightness and energy-saving features, the Poliedra-Sky system can be employed both in building and in restyling, replacing or integration of new volumes.

By using profiles and proper fittings, the system allows to make vertical or horizontal curtain walls, such as:
Traditional curtain walls (mullions and transoms)
With "standard" elements (glass check edge)
With "structural" elements (glued glass without visible metallic parts)
Other particular structures are also possible such as:
roofs, pyramids, sky-lights, verandas, patios, solariums, winter gardens.


Poliedra SKY-50 Technical Description
Extruded aluminium profiles: alloy EN AW-6060 (EN 573-3 and EN 755-2).
Temper designation: T5 (EN 515).
Dimensional tolerances and thickness: EN 12020-2.
Air-water tightness: by pressure equalization.
Type of profile: with or without thermal break.
Application of glazing or panels from outside:
- With presort profile (mullions and transoms system)
- By insertion into the frames ("standard" elements system)
- Glued onto the frames ("structural" elements system).

Height of glazing seat: net 19,5 mm (usable 14 mm).
Glazing thickness: variable from 4 to 45 mm.
Basic dimensions of the system:
- Mullions: 50 mm wide, from 16,5 to 225 mm deep.
- Transoms: 50 mm wide, from 22 to 123 mm deep.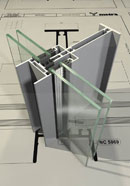 Want To Find Out More?
If you would like to obtain further information on our Curtain Walls, please call us on 03 9315 2715 or send us an email.