Integrated Blinds for Double Glazing Units
ScreenLine® blind systems have been available for prestigious building projects around the world for many years. However, it has now specifically developed a new modern blind system for the conservatory and domestic window market, using the same technology.
ScreenLine® is a patented system with manual or motorized operation (raising and tilting function) for venetian blinds incorporated within double glazing units.
Benefits
Totally dust free environment
The blinds require no cleaning
Protected from damage
Include enhanced sun shading features
Enhances the u-value of a sealed unit
Integrated blinds are available in a choice of colours and can be ordered in either a venetian or a pleated variety.
Motorized Operation
ScreenLine® SL-M is a motorised system. The blind is raised or lowered via a device consisting of an electrical motor and a miniaturised control unit, which allows (by means of an encoder) the simultaneous and synchronised operation of several blinds and the accurate tilting of the slats. The motor and the entire electronic blind management system are positioned within the head rail, on a specially designed slide that will reduce vibrations, thus making the system very silent.
Corded Operation
ScreenLine® SL-C is a patented magnetic system with a manual operation unit.
The external magnetic device applied on the glass by means of high-resistance adhesive tape contains a cord loop and a magnet that is perfectly interfaced with the magnetic joint of the internal drive, which is completely housed inside the head rail. The movement provided to the cord enables the rotation of the magnets that activate the blind. The cord is kept under tension by means of a special cord tensioner applied on the glass.
ScreenLine® is particularly suited to structural facades, although there is actually no limit to its application. It ensures that with time, the insulating properties of the double glazing unit, still provides notable protection from dirt or external weather conditions. The integrated unit can be fitted into the window frame like standard insulating glass.
How does it work?
This system of magnets ensures that the seals around the unit are not affected, thus keeping the blinds completely protected from dust. The magnets have a lifespan of over 100 years, enough to ensure quality usage for as long as you like.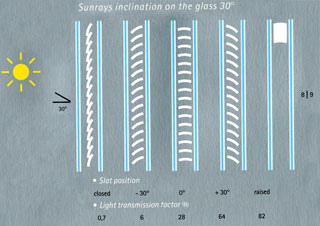 Contact Us for More Details
If you would like to obtain further information please call us on 03 9315 2715 or send us an email.